Often called the breadbasket of Italy, Puglia is a less familiar part of the country to foreign travellers. But Italians flock there in the summer to take advantage of its beautiful beaches and its simple, flavourful food. Puglia is home to orecchiette pasta, burrata cheese, wonderful tomatoes and rich wines. This is a typical Easter dish from the region. The only trick in the dish is to add the egg mixture just before serving to prevent curdling. I make the dish and then reheat when needed, adding the egg thickener just before serving. You can omit it, if you prefer, because the dish is wonderful with or without it. If you cannot get fresh peas use frozen and just reheat in the sauce.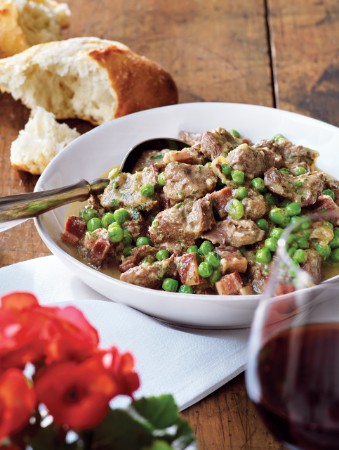 Ingredients
2 tbsp (30 mL) olive oil
2½ lbs (1.25 kg) boneless lamb cut from the shoulder in 1½-inch (4-cm) chunks
Salt and freshly ground pepper
3 oz (90 g) chopped pancetta
1 large onion halved and thinly sliced, about 2 cups (500 mL)
2 tsp (10 mL) chopped garlic
1 cup (250 mL) white wine
1 dried red chili
¼ cup (60 mL) chopped parsley
2 cups (500 mL) fresh green peas
3 eggs
½ cup (125 mL) Parmesan cheese
Method
1 Preheat oven to 300°F (150°C).
2 Heat oil in a Dutch oven or large skillet over high heat. Season lamb with salt and lots of pepper. Add lamb to oil in batches and fry until well browned on all sides, about 4 to 6 minutes total. Remove from pan and reserve.
3 Reduce heat to medium and add pancetta. Cook for 2 minutes or until it renders its fat. Add onion and sauté for 2 minutes or until softened; add garlic and sauté 1 more minute.
4 Pour in wine, stir in chili and 2 tbsp (30 mL) parsley and bring to boil, scraping any brown bits at the base of pan. Simmer for 2 minutes to combine flavours then return lamb to skillet.
5 Cover and bake for 1½ to 2 hours or until lamb is tender. Add green peas and return to oven uncovered. Cook for a further 15 minutes or until peas are tender.
6 When ready to serve, beat together eggs, Parmesan cheese and remaining parsley. Reheat lamb. Stir eggs into lamb mixture until incorporated and the mixture is smooth. Season again with salt and pepper and serve at once.
Source
https://www.lcbo.com/lcbo/recipe/lamb-from-puglia/201202019#.YWhxA9rMKUk