Prep: 10 minutes
Inactive: 30 minutes
Cook: 10 minutes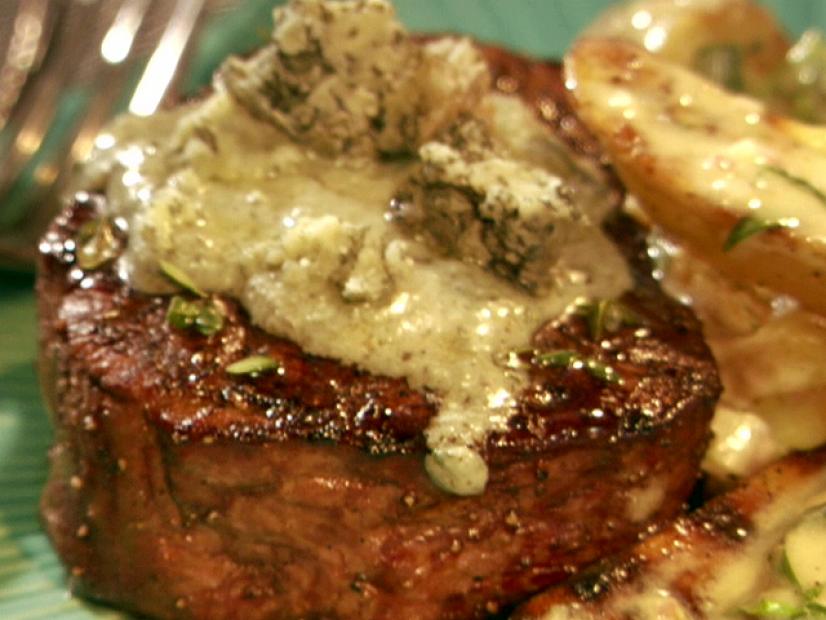 Ingredients
1/4 cup unsalted butter, slightly softened
1/4 cup crumbled Cabrales blue cheese
2 teaspoons finely chopped fresh thyme
Salt and freshly cracked black pepper
4 (1 1/2-inch thick) filet mignons
Canola oil, as needed
1 teaspoon coarsely cracked black pepper
Directions
Preheat a grill to high heat.
Combine the butter, cheese, and thyme in a bowl and season with salt and pepper, to taste. Cover the bowl and refrigerate for 30 minutes.
Brush the steaks with some canola oil, then season them with salt and cracked black pepper. Grill until the meat chars on both sides and is cooked to a medium-rare doneness. Transfer the steaks to a platter, top them with some of the butter and let them rest for 5 minutes before serving.
Source
https://www.foodnetwork.com/recipes/bobby-flay/grilled-filet-with-blue-cheese-butter-recipe-1920917
Lessons Learned
Cook with the butter/cheese sauce on the top for the last bit. Don't put it on the bottom as that will just produce flames.
Nice treat!