They say salmon makes you smarter—you'll definitely feel smarter when you grill up a delicious dinner and prep two more meals at the same time! This one is so easy, and fancy enough for company, that you might even want to host a party just to have the excuse to serve it (and have leftovers). Grilling on foil is the easiest way to get a large fish on and off the grill and avoid flare-ups, especially with this sweet marinade. As well, the skin sticks to the foil, letting you slide a spatula between the skin and the fish to lift the fish off with ease. Substitute steelhead trout if you like, using two sides of trout in place of the salmon, or sub 2 smaller sides of salmon if you can't find a large one.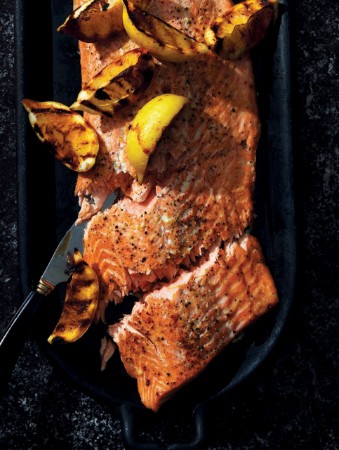 INGREDIENTS:
3 lemons
⅓ cup (80 mL) pure maple syrup
Freshly ground pepper
1 large side of salmon, about 3 lbs (1.36 kg), skin on (see TIP)
Canola oil
Salt
METHOD:
Finely grate the zest from 1 lemon into a large shallow dish. Squeeze juice from half of that lemon, about 2 tbsp (30 mL), and add to the dish. Reserve remaining lemon half.
Add maple syrup to lemon mixture and season with pepper. Stir well to combine.
Rinse fish in cool water and pat dry with paper towel. Place in syrup mixture with the flesh-side down, swishing to coat evenly. Cover and refrigerate for at least 1 hour or for up to 1 day, swishing to redistribute marinade periodically if possible.
Preheat barbecue grill to medium-high, about 400°F (200°C).
Cut remaining 2 whole lemons into quarters lengthwise, and cut remaining lemon half in half. Brush lemons with oil and season lightly with salt.
Place a large sheet of foil on a baking sheet and place salmon on the foil with the skin-side down. Reserve marinade in dish. Season salmon with salt.
Grill lemons, turning lemon to brown all sides, for 2 to 3 minutes per side. Set aside.
Lift foil with salmon from the baking sheet onto the grill and drizzle generously with some of reserved marinade (discard the rest of the marinade). Using the tip of a knife, poke several small holes in the foil around the salmon to allow juices to run out. Cover with lid and grill salmon for about 10 minutes per inch (2.5 cm) of thickness, or until slightly pink in the thickest part, or to desired doneness.
Reserve about one-third of the cooked salmon and 4 of the grilled lemon wedges for Salmon and Asparagus Fusilli (recipe below) and one-third of the salmon for Fish Tacos with Pineapple Slaw (recipe below) or the Quick Ideas (see below).
Serve remaining hot salmon with grilled lemon wedges to squeeze overtop.
Let leftovers cool, then refrigerate in an airtight container for up to 3 days.
SOURCE:
https://www.lcbo.com/lcbo/recipe/maple-lemon-grilled-salmon/F201904022#.Xxmuy55KiUk