This traditional steak dish of Florence is world renowned. The best bistecca comes from the Chianina herd of cattle, bred in Italy for their rich flavour and relative leaness. There are some cattle farmers in the U.S. who are raising this particular kind. The steak has a lot of character with layers of flavour and a slightly buttery texture. Because the steak is so good it needs few additions to it. The closest we can buy here is Angus although some of the grassfed breeds have a similar flavour. The steak is always the porterhouse cut and usually serves2 or more people. See Serving Suggestions following recipe.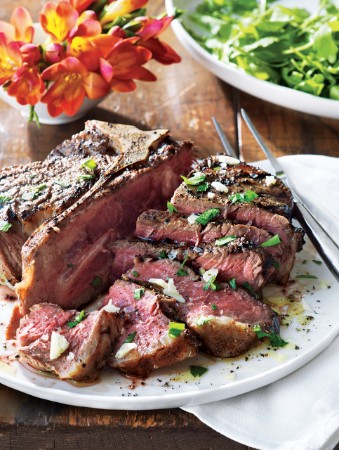 INGREDIENTS:
2 tbsp (30 mL) olive oil
2 lbs (1 kg) porterhouse steak, 2 inches (5 cm) thick
Kosher salt and freshly ground pepper
GARNISH:
1 tbsp (15 mL) olive oil (optional)
Maldon or other finishing salt
DIRECTIONS:
Preheat grill to high.
Brush oil on the steak and season with salt and pepper. Grill about 7 to 8 minutes a side for rare, turning once.
Let sit for 10 minutes. Carve off both the fillet and the sirloin. Slice both the fillet and the sirloin into ½ inch (1 cm) slices. Drizzle a little olive oil on steak and season with extra Maldon salt.
SERVING SUGGESTIONS:
Serve with lemon quarters
Drizzle with a drop of balsamic vinegar
Finely chop garlic and parsley and sprinkle on steak
Serve with an arugula salad on the plate
Serves 2 to 3
SOURCE: https://www.lcbo.com/lcbo/recipe/bistecca-fiorentina/201202016#.XxmsQZ5KiUl