Nigella's suggested way to cook duck legs and potatoes in one pan.
Level: Easy
Total: 2 hr 15 min
Prep: 15 min
Cook: 2 hr
Yield: 2 servings
This is one of those leave em' and love em' meals. For all the ease of the express-style food, there is something to be said for simply stashing something in the oven for an hour or two when stuck in too-tired-to-cook mode. True, one needs a little patience, which might make this more of a lazy weekend dinner than the answer to your everyday exhaustion issues. You don't need to serve much alongside, perhaps no more than a fennel salad dressed with a spritz or two of orange juice and a squeeze of lime, or some bitter green salad leaves. When you're in a hurry, a duck breast can seem like the solution, but the leg, cheaper yet richer, is more of a treat for those who like to eat. Of course, it's fattier than the appropriately named leaner magret: that's what makes the leg taste better. And please – enough with the supposed health concerns. I mean: it's not as though the obesity-epidemic was caused by the overconsumption of duck legs. Besides, as the late great James Beard sniffily wrote "A gourmet" – and that's him, not me, I'm just greedy – "who looks at calories is like a tart who looks at her watch."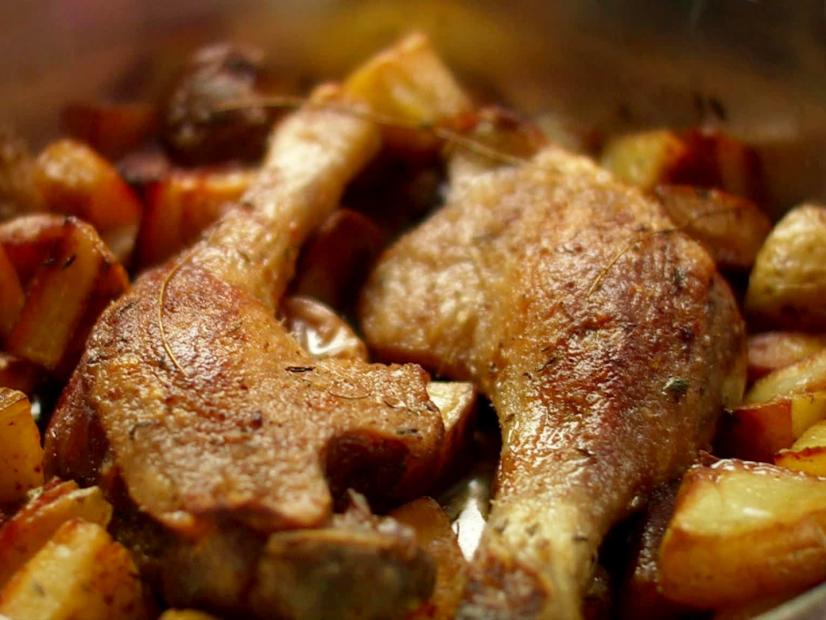 Ingredients
2 duck legs
2 baking potatoes or 1 pound other large white-skinned potatoes
Few sprigs of fresh thyme
Salt and pepper
Directions
Preheat the oven to 400 degrees F.
On the stove, heat a small roasting pan (I use one like a slightly oversized tarte tatin pan) and sear the duck legs, skin-side down over medium heat until the skin turns golden and gives out some oil.
Turn the legs over, and take the pan off the heat while you cut the potatoes into 1-inch slices across, then cut each slice into 4. Arrange these potato pieces around the duck legs, then let a few sprigs of thyme fall over the duck and potatoes, and season with salt and pepper, before putting into the preheated oven.
Cook for two hours, occasionally turning the potatoes, for optimal outcome, which is tender duck legs and crispy potatoes, though both will be ready to eat after 1 1/2 hours.
Making leftovers right: If you have even a small amount of meat left, you could bag and mark it up and store it in the freezer for up to two months for future use. Thaw overnight in the refrigerator.
Source
http://www.foodnetwork.com/recipes/nigella-lawson/roasted-duck-legs-and-potatoes-recipe.html